Your choice for a healthy life
The pool is an integral part of the voco® Podgorica hotel and is a favorite place for rest and recreation.
Swimming strengthens the entire musculature of the body (arms, shoulders, chest, back, buttocks, legs), burns a considerable number of calories depending on the style of swimming you use, improves fitness and endurance.
In addition to shaping and strengthening the body, swimming also has a beneficial effect on our psychophysical development. Namely, the breathing that is necessary during swimming, which is a much deeper breathing than usual, exactly is the technique that is recommended to all those who are under stress, those who have frequent panic attacks or simply have problems to calm down in stressful situations.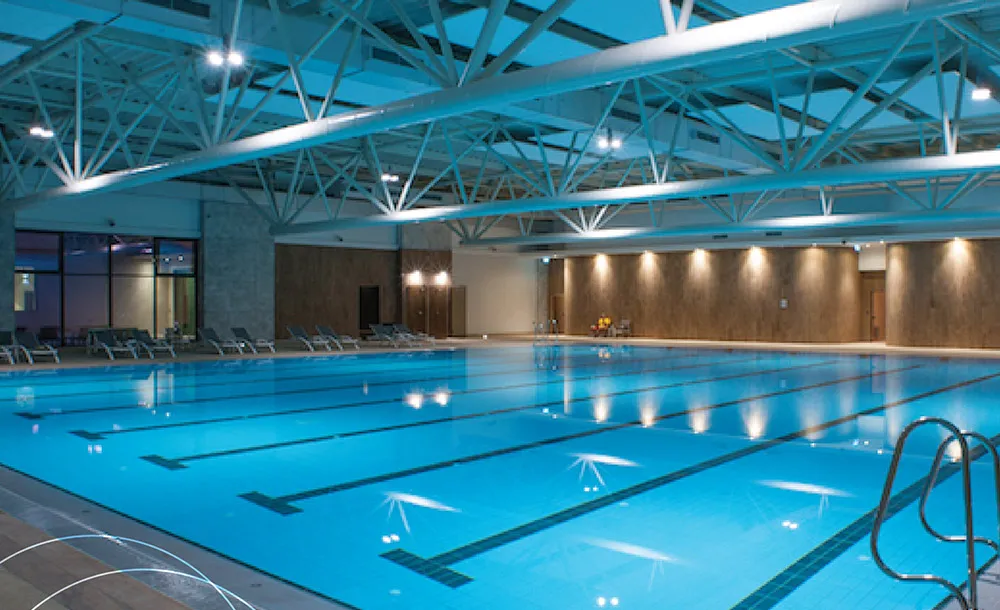 8 swimming lanes

Recreational visitors
Recreational swimming is the most beneficial sport for health and fitness. The pool can be used by both hotel guests and other visitors.

Professionals
It is ideal for all swimming sports as well as preparatory training.

Terrace
The pool terrace is a place to rest and sunbathe. It is surrounded by nature and guarantees you privacy and relaxation.

Jacuzzi
The hydromassage jacuzzi is an integral part of the indoor pool.

Lifeguard
The lifeguard is always present and makes your stay at the pool safe.
| | Duration | Price |
| --- | --- | --- |
| Swimming pool | Day ticket/180 min | 15,00€ |
| Pool & Aromatherapy Massage | 120min/30min | 40,00€ |
| Pool & Aromatherapy Massage | 120min/60min | 60,00€ |
| | Number of appointments | Monthly ticket | Semi-annual ticket | Annual ticket |
| --- | --- | --- | --- | --- |
| Pool | 2x a week/60min | 50,00€ | 250,00€ | 500,00€ |
| Pool | 3x a week/60min | 70,00€ | 350,00€ | 700,00€ |
| Pool & Gym | 3x a week/60min | 100,00€ | 500,00€ | 1000,00€ |
| Pool & SPA | 3x a week/120min | 130,00€ | 650,00€ | 1300,00€ |
| Pool & SPA & Gym | 3x a week/180min | 160,00€ | 800,00€ | 1600,00€ |
| Gym | 3x a week/60min | 50,00€ | 250,00€ | 500,00€ |
| Gym | 5x a week/60min | 65,00€ | 325,00€ | 650,00€ |
| | Number of appointments | |
| --- | --- | --- |
| Pool + SPA | 3x weekly + SPA 1x weekly | 80,00€ |
| Pool + SPA | 2x weekly + SPA 1x weekly | 60,00€ |
| Pool + SPA | 2x weekly + SPA 2x weekly | 85,00€ |
| Gym + SPA | 3x weekly + SPA 1x weekly | 70,00€ |
| Gym + SPA | 5x weekly + SPA 1x weekly | 80,00€ |
| SPA | 2x weekly/60min | 70,00€ |
| SPA | 3x weekly/60min | 90,00€ |